In today's fast-growing world, technology is making it easier than ever to stay connected with the world and to our faith in spiritual and devotional activities. There are multiple apps available for different religions and regions. One of the growth among them is the Bible app, which you can access with the help of the mobile application whenever you want. A Bible devotional app can be considered a powerful tool for Christians to stay engaged with the word of God and receive daily inspiration and guidance.
The bible mobile app development data shows a massive increase in the market stats, which raised from $6.1 M to $175.3M in 2022. If you are a business owner and thinking of developing one, you can go for the investment, which can give good profit to help you grow. In this blog, we will cover all the details related to the bible app that can provide you with a better idea of the concept. So let's get started!
Why Do You Need Bible Study Mobile App?
There are several reasons you will require a bible app beneficial. Mentioned below are some of that points.
Versatile Learning tools- Many bible study apps provide many features, including video, and audio content, study plans, interactive quizzes, and many more. This can help the business owners and the people engage in new ways while deepening their understanding.
Convenient access- With the help of the bible app, one can access the book anywhere and whenever they want to. This can make it easy to fit a massive book in a single app and carry it anywhere you want, and as more people find it convenient, it helps business owners encourage investing in one.
Spiritual Growth- It is believed that studying the Bible regularly can make people and business owners involved in these activities more and make things easier. It provides a sense of purpose and direction in life. This helps motivate people and business owners struggling with the business's stresses and demands.
The Demand For Bible App (Market Stats)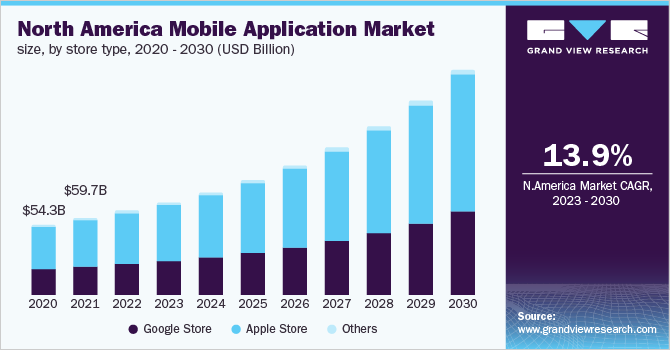 The global market size of mobile applications was valued at USD 206.85 billion in 2022 and is expected to grow at a CAGR of 13.8% from 2023 to 2030.
According to the market, an increase in the number of spiritual and devotional apps are constant, primarily Christian apps like the Bible app, which has increased from $6.1 million in 2016 to $ 48.5 million in 2020 and $175.3 million in 2021.
The size of the Bible Software is projected to reach a multimillion USD by 2029. In comparison to 2023 an unexpected CAGR during the forecast period 2023-2029.
Benefits Of Bible Reading App Development
1. Multiple Translation Languages
The Bible app is designed in a way so that more people can use and get benefit from it. To succeed in this condition, it is one of the most common problems among the many is the language barrier. People living in different places have different languages, so to make it convenient, the bible app has a feature of giving multiple language options; you can switch or download the data you want from it.
2. Can Change Font Settings Accordingly
Of course, the app is made for everyone likely to use it. Though it contains multiple age group people, it might be an issue to read the same text font for your grandfather in which you are reading. This problem is also faced in the hard copy version of any book. Using the bible app can help you in this situation. It got multiple text options you can choose from according to your comfort.
3. Customizable Experience
Of course, the app is made for everyone likely to use it. Though it contains multiple age group people, it might be an issue to read the same text font for your grandfather in which you are reading. This problem is also faced in the hard copy version of any book. Using the bible app can help you in this situation. It got multiple text options you can choose from according to your comfort. You can also choose from various background colors and also make personal notes from favorite passages.
4. Increased Engagement
A Bile reading app can grow the users by reminding them to read the Bible occasionally. They also offer multiple rewards and track the readers' progress and notify them.
5. Cost-Effective
It can be a cost-effective process to develop a bible app compared to printing physical bibles. With the app's help, it can reach a larger audience globally.
6. Global Reach
A bible studying app can reach a global audience. Allowing the users to access the ap[p in the multiple languages available as required. This gives a better understanding and access to a greater global audience.
7. Portability
People who have a habit of reading the Bible daily on a routine can have a slight issue while traveling as it can be an extra burden to carry with all the other stuff, and they might have problems in reading also at any time. While replacing it with the modern method like a mobile application, it becomes a lot easier for most people to go through the part they want to from wherever and whenever they want to.
8. Find Verses Fast
Often it is a problem to find the verses, and usually, everyone spends the first five to ten minutes finding these. But using a mobile app makes it way easy by just typing it on the app screen to reach a particular part of the Bible, or you can just tap on the phone screen of the app.
9. Can Make Verse Images
The people often are of different types, and they like to share motivational and good things with others. Also, the app allows them to make images with their favorite verses. They can easily crop and add the verses to the images and share them with anyone they want to with any size, color, and font options that are available in the application. This can be a great way to introduce more people to spiritual and good concepts.
Key Features of a Bible App
There can be multiple features that can be added to the bible app for the ease of people. Mentioned below are some of the most common one that is required by most of the audience.
1. Offline Versions
This feature helps the reader to be in touch with the book whenever wants to read it. At times facing issues with the internet or wifi can lead to a break in the reading activity, and it becomes saddening for some. To solve this problem, this feature can be most useful as individuals can download the different chapters from before and go through them without any issues.
2. Make Family Groups
You can add different people from your family and friends and make various groups on the app. This makes it easy to share the verses related to the Bible with your loved one in one click and let them also be a part of the holy things despite busy schedules.
3. Bookmark, Highlights, and Notes
This feature can be added to the application to make the work more convenient for the reader. The feature allows the individual to highlight and color the text and also bookmark it, which they want to remember, or whenever again they visit the same topic, they can have the highlighted part. There are also options available to make notes in the app and can share them with others.
4. Audio
Time when individual eyes get irritated but still want to read the Bible and do not want to leave at times, they can use this audio feature. This feature allows listening to the Bible whenever they want and cannot read it. Even with the work, they can listen to the Bible with the help of this feature.
Best Bible Apps in Market
1. YouVersion Bible App
| | |
| --- | --- |
| Download: 500 million | Rating: 4.9 ⭐ |
The Bible app allows you to share the passages with your loved one, on social media, via emails or texts. It also has the feature of creating verse images.
2. Bible – Audio & Video Bibles
| | |
| --- | --- |
| Download: 5 million + | Rating: 4.6⭐ |
This app is known for its unique feature of audio in it. You can listen to high-quality, dramatized audio in this app and can listen online or offline with over 1800+ languages.
3. ESV Bible
| | |
| --- | --- |
| Download: 10 L+ | Rating: 4.2⭐ |
It is created by around 95 leading Bible scholars and teachers. Contains 20000 study notes and 80000 cross- references.
4. NIV Bible App
| | |
| --- | --- |
| Download: 1M+ | Rating: 4.9⭐ |
It is a completely original translation of the Bible developed by more than one hundred scholars working for the best available Aramaic, Greek Texts, and Hebrew.
5. Blue Letter Bible
| | |
| --- | --- |
| Download: 1M+ | Rating: 4.6⭐ |
It is a free, searchable online bible program that provides many translations.
Best Bible Apps & Bible Study Apps For Reading on Smartphone
No Code/Low Code Vs. Traditional Development
| Aspect | No Code/Low Code | Traditional Development |
| --- | --- | --- |
| Development process | Uses pre-built templates and drag-and-drop interface, enabling non-technical users to create apps with minimal coding | Requires specialized technical skills to create custom code and develop the app from scratch |
| Time required | Significantly less time required for development and deployment | Significantly more time required for development and deployment |
| Cost | Less expensive due to less need for specialized skills and development time | More expensive due to higher need for specialized skills and development time |
| Flexibility | Less flexibility to customize app features and functionality | More flexibility to customize app features and functionality |
| Scalability | Maybe more scalable for large and complex projects | It may require less maintenance due to pre-built components and templates |
| Maintenance | It may require more maintenance due to custom code and complex functionality | May require more maintenance due to custom code and complex functionality |
Team Required For Developing A Bible Mobile App
Developing a mobile app for the Bible requires a team with diverse skills, including:
| | |
| --- | --- |
| Project Manager | to see the development process and ensure the project stays on track. |
| UX/UI Designer | For designing the user interface and experience of the app. |
| Mobile App Developer | To code and develop the app for mobile platforms. |
| Backend Developer | For creating the server-side components that power the app. |
| Quality Assurance (QA) Specialist | For testing the app and ensuring it functions properly. |
Additional professionals such as database administrators, security experts, and marketing specialists may be necessary depending on the complexity of the Bible app and its required features.
Steps to Create a Bible Mobile App
1. Target Audience and Purpose
To begin with, identifying the target audience of the app is crucial to ensure its focus is clear. Analyzing the app's purpose and the demographics of its intended users is essential to obtain the necessary information and providing a thorough comprehension of the audience. This knowledge will facilitate the app's development according to the specific requirements.
2. Consult a Development Company
Once you have determined the app's purpose and identified the target audience, it is crucial to seek the guidance of a development company for further progress. Such a company can provide valuable assistance in optimizing the app's development and selecting the appropriate platforms and procedures. If you encounter difficulties finding a suitable company, Emizen Tech is available to help you create the ideal Bible app for your business.
3. Choose a Platform
There are several platform options available to build a bible app. It includes android development, iOS, React Native, Xamarin, and Phone Gap. These are all development platforms that work differently. Android development is offered by google and gives a wide range of features. iOS is used by apple users and is known for its security. Xamarin and React Native are cross-platform tools. And Phone Gap is an open source that can be used for multiple platforms using Html, CSS, and many more.
4. Build a Minimal Viable Product
The minimum viable Version of your app includes only the essential features, allowing you to test it with a small group of users and gather feedback. This approach minimizes time and monetary investments while identifying and addressing issues before making significant contributions. Additionally, it provides insights into potential features that can be added to the app before launching it in the market.
5. Launch Your Application
After completing all necessary processes, the next step is publicly launching the application. This involves submitting the app to the app store (such as the App Store or Google Play), promoting it to users, and creating marketing materials. This process occurs only after completing all the necessary steps and is intended to introduce the app to the market for profit.
6. Analysis
Launching the app to the public is not the end of the process, and it is crucial to stay up-to-date with the latest market trends and developments. This involves consistently monitoring user activity and gathering regular feedback to make necessary updates and improvements. Such actions ensure that the app meets user needs and remains relevant.
Technology Required For Developing Bible Mobile App
| Technology | Description |
| --- | --- |
| Front-end Framework | A front-end framework such as React or Vue.js to handle the user interface and interactions. |
| Mobile Development Framework | A mobile development framework such as React Native or Flutter allows cross-platform development. |
| Database | A databases such as MySQL or MongoDB store the text and metadata of the Bible. |
| APIs | APIs to access external data sources such as different translations or audio versions of the Bible. |
| Authentication | Authentication systems such as OAuth2 or Firebase Authentication handle user authentication and authorization. |
| Analytics | Tools such as Google Analytics or Firebase Analytics to track app usage and user behavior. |
| Cloud Services | Cloud services such as Amazon Web Services or Microsoft Azure host the app and manage its infrastructure. |
| Push Notifications | A push notification system such as Firebase Cloud Messaging or Apple Push Notification Service to keep users engaged and informed about updates. |
| Localization | Localization tools such as i18next or react-intl support multiple languages and translations of the Bible. |
Cost to Develop Bible App

The cost to develop a Bible app can vary depending on factors such as its complexity, the features included, the platform(s) it will be created for, and the development team's location and experience level.
Here are some estimated costs for developing a Bible app:
| | |
| --- | --- |
| Simple Bible App | A basic Bible app with standard features such as reading, searching, and bookmarking could cost starting from $5,000. |
| Medium-Range Bible App | A Bible app with more features, such as audio versions, daily devotionals, reading plans, and study tools, initially costs around $10,000. |
| High-End Bible App | A high-end Bible app with advanced features such as social media integration, custom user profiles, advanced search algorithms, and additional multimedia content could cost over $50,000. |
These are rough estimates, and the exact cost of developing a Bible app will depend on the specific requirements and complexity of the project.
Why Choose Emizentech For Developing Bible App?
Emizen Tech is a highly experienced and reliable app development company that can provide many benefits for those looking to develop a Bible app. Here are some reasons why you may want to choose us for your Bible app development:
Experience-We've been making apps for a long time and have worked with many different types of clients. So, we know how to create a perfect Bible app that will do exactly what you want it to do.
Skilled Developers: We have a team of very talented developers who are experts in different programming languages and technologies like Java, Swift, and React Native. They can use their expertise to make a Bible app that works well and is easy to use.
Customization: We know each client has unique needs for their Bible app. That's why we provide customization services to let you personalize your app to fit your requirements. You can choose which features you want and make changes as necessary.
Competitive Pricing: We have affordable pricing for our Bible app development services, so you don't have to worry about it being too expensive. Plus, we're transparent about our pricing, so you can be confident that you're getting a fair price.
Our company can provide you with the expertise and resources needed to create a high-quality Bible app that meets your specific needs.
Conclusion
The article discusses the benefits and market stats of developing a Bible study mobile app and provides a guide on creating one. A Bible app's benefits include versatile learning tools, convenient access, and spiritual growth. The article also lists some of the features of a Bible app, such as multiple translation languages, font settings, offline versions, and the ability to make verse images. The guide covers the steps involved in creating a Bible app, from identifying the app's purpose and target audience to designing and developing the app. App development also plays a good part from a business point of view and can lead to company growth.